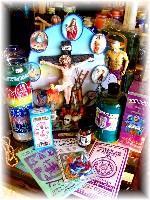 If you have not taken the opportunity to let Lady Armida help you solve that one nagging problem.  Then you are missing out on a GREAT OFFER!
Remember you will receive the "Blessed and Energized" Lady "A" Stone the cost "priceless"
Looking forward to helping you.  I CAN Help, I WILL Help for I am ....Armida!
Just write your request, send it along with $75 to Lady Armida  .
It's  time to accomplish your dreams and goals!  Be it Weight lost, love, money, luck etc. 
We can help!