Types Of Baby Strollers – Which Type Of Baby Stroller Is Right For You?
From the creation of a baby stroller it already have pass along way ever. Today, there are many types of stroller being sold in the market. There are various types of stroller named depending on it use criteria, children age and various susceptibilities.
The Carriage also known as Prams
First, there are the carriage strollers or better known as prams. This type features a fully reclining seat where the baby can get to lie down on his or her back while you stroll up and down the streets. Modern designs of prams can now be transformed to strollers so it can still be used while the baby is growing. These models provide sufficient, flat sleeping space for infants.
Charlotte of Cambridge Princess of Britain's has used this type of stroller. These were the dedicated carriage or pram which is become rarer today. It was built with a large spoke wheel to remove. Your baby can lie flat while you strolling. Today's combo stroller which is less expensive can generally consider instead of old carriage or prams. As well as the other attachments the combo stroller comes with a bassinet that will grow with your baby. These types are suitable for sleeping that the newborn needs. Big spoke wheel give the stroller a classic look. Only a few manufacturers are offering this. Some are offer stroller seat that can be purchased separately. This can be used with the same chassis so that your baby has outgrown the bassinet feature.
On the other hand, these types are not very practical and not very portable. When you are into your vehicle or on and off public transportation the large wheels of pram make impossible and left you a hassled situation. At that case you still need a separate car seat for any car trips. Traditional prams usually cost $1,000 or more and don't convert to a regular stroller. And they aren't very popular and only few manufacturers make them.
The Standard Type Baby Stroller.
The second type baby strollers that are available today is the standard baby stroller. The sturdy materials are used to make the stroller durable. This are also incorporates with the fully reclined seat for make a better accommodation of the child up to he is being toddler from his infant age. It is also known as traditional stroller. These types are lightweight travel systems which run its weight range from less than 20 pounds. The weight goes up to 26 pounds or more when an infant car seat attached with it. The heavy duty models are 35 pounds or more. The weight increased when you made for your twins. At that time the weight can climb closer to 40 pounds. Somehow, the heavy duty stroller is bulky but it is more roomy, deep and stable. With the many other features some model use the shock absorbents on all wheel, while others are fundamentals. Many strollers use a two-step, one-handed releasing system for folding.
From baby's first day you can use this type of stroller. Parents are choosing this as they are lightweight and convenient. The both a capacity for a car seat and an infant enclosure/full recline are use in some models. As more features some model have a roomy storage basket, a snack tray, some have accommodation for an infant car seat. To prevent you're infant from slipping through some have some means of closing off the leg openings.
As the consideration this models are Heavier and difficult to lift and carry. If your baby should ride in a car or taxi safely you will still need a car seat so your baby can cozily ride. When you're on uneven sidewalks or rough terrain the small wheels on some models may not work well. In winter when your toddler in heavy dressed it might be cramp to them for the light weight and compact size of the stroller.
The Umbrella Type Baby Stroller.
When children ages one year old and above, lightweight strollers are the best chosen option. This is the third type stroller named as Umbrella Stroller. Parents consider this compared to other strollers especially since it comes at a much lower price. Like an umbrella the strollers often have curved handles. It is light weight and easy to fold. Because the baby can sit up, the umbrella stroller is perfect for travel. It helps you for quick trips around town with your babies. Some are now offering compatible car-seat that can attached by an adapter, and possibly included. Some new models may be packed with this feature. According this it carry higher price that some are worth the additional cost, others are not.
This stroller is popular for their lightweight and convenient. These models are usually quite easy to fold. Some model are using seat that are recline completely flat. And the others which are accepting the car seat are more popular.
The babies younger than 6 months aren't suitable for this type. Still the seat rarely reclines fully, and a few of them don't recline at all. This may also cramp to older babies and toddlers, particularly when they're wearing clothes in heavy winter. Most of them doesn't provide the cushiest ride since they sometimes lack suspension and seat support.
4. The Jogging Baby Stroller.
The jogging strollers are today's fourth type stroller. The parents who love to jog or run can chose these types. Heavy but lightweight materials are used to make for its easy maneuverability. A wrist strap is used in this type stroller for security purposes. These are three wheeled stroller. In addition a hand brake is use with the foot-operated parking brake. This brake use for slow down and stopping. Its front wheel makes that can be fixed or lockable (non-swiveling). This swivel option gives better maneuverability on smoother surfaces. And the not swiveling option gives better running and/or walking on rougher surfaces. The large front wheel doesn't swivel at all on some brands. To avoid bumping into the stroller's edge with the running feet and legs, the handlebar is designed as long as high. When running with a child in case you may fall or trip. In this situation to a tether strap, which will be attached to your wrist and the stroller at all times. This will keep stop the stroller from rolling itself.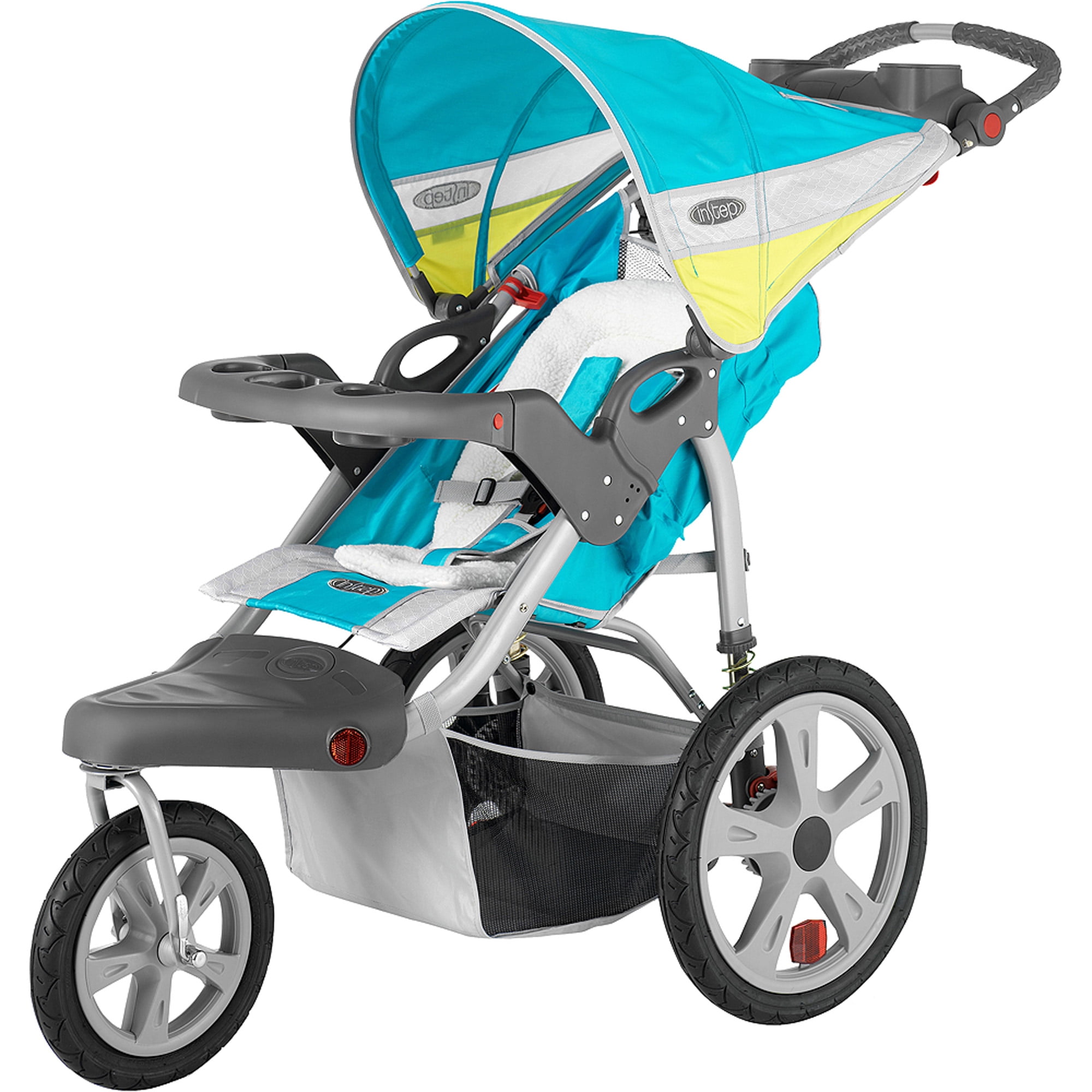 The baby needs to have good head and neck control while he/she riding along on Mom or Dad's run. Some of the manufacturers suggest that a child can ride in a jogging stroller as young as 8 weeks old, while his parent runs. But the medical consultants say that the baby who ride on a jogging stroller should be at least one year old.
Advantage of the Jogging strollers is, it can be used for off-road running and walks. Large, air-filled tires make them easy to push and offer a comfortable ride. Other than traditional strollers many jogging strollers may have a longer useful life. A heavier child can accommodate in this stroller. There are some double or triple jogging strollers offered by several companies which are with total weight limits of 100 or 150 pounds.
Buying a jogging stroller as your only stroller should be considered carefully. For running or jogging a fixed (non-swiveling) front wheel is good. But everyday situation it is difficult to maneuvering. The three wheels is the major problem because it is less stable when you going up or down a curb and the wheel is in swivel mode. When a child tries to climb into the stroller from the side it will be at risk. To fit the jogging stroller into your car trunk will not be easy because they are often large and some are heavy. You might be go for a bicycle pump or gas-station hose to inflating the flatted air filled tire. If you are not familiar with how to install this bicycle-type air-filled tires can make you busy.
5. The Combo Type Baby Stroller.
The fifth type of baby strollers is combo stroller. In this type of baby stroller is included with a stroller base for toddlers as well as bassinet. a mixture whose base in a stroller frame with wheels consists in this type of stroller. Everything is included; with some models. To customize the stroller to your needs you can purchase a la carte and various other parts. Directly to the chassis you may be able to attach the car seat for a newborn. Possibly with an adapter that may not be built-in. for infants you ma purchased many models bassinet or carrycot, which is a great option. You will be able to easily adjust the unit with matching accessories and seat padding as you like. This combo type's stroller lies flat and generally lacks a harness, which is the meant for only the youngest babies. Often stroller seat can be used from birth while it has a lie-flat position. These are the most valuables part of a combo stroller system. The baby can sit facing forward or facing back to the person pushing. For this combo stroller used reversible seat in the system.
You should have a repair kit with pump and spare tube on hand, when you have a stroller with air-filled tires. Checks the pressures regularly make sure that it is ok.
Prosperity of this type of stroller is can use this stroller from the first day of baby's life. You have to choose a model that has a carrycot option or accommodates an infant car seat, or stroller's seat that reclines flat. In view of the fact that many combos can carry a toddler of up to 40 pounds. So, that you may not need to buy another stroller. Some of the manufacturers are sold combos as a complete package. It consists with a chassis, a bassinet, and a reversible seat. But sometimes it comes with the one or the other, like seat or bassinet. Hence you have to buy separately the other which you want.
In the consideration the trend of a combo stroller is costly. You will need to buy a car seat. And with a base for your car and a car-seat adapter for the stroller. Important accessories such as a rain cover, tire pump/pressure determiner (if the stroller has air filled tires), under seat storage space, or a maintenance kit do not come with some package. You may want to look into the kits may include such items as an air pump to inflating the flatted air filled tire and a silicone spray to keep wheels from squeaking.
6. The Travel System Baby Stroller.
The travel system is count here as sixth type of stroller out today. This is highly efficient stroller. It is made up of an infant car seat when it comes to traveling. It is as well as stroller for toddlers for traveling. This baby car seat can be simply attached to the car seat base as fighting fit as with the stroller. It highly convenient made to bring along when you are on the road. The well known and with the great option of travel system you will find in The Chicco Key Fit 30 and the Graco Quattro brand.
Prosperity is to move your sleeping baby from car to stroller undisturbed. To do that cozily you will find an infant seat with a carrier frame in a travel system. There are some models that allows you to fully tilt back the stroller's seat. To use it as a carriage there has a way of closing off the leg holes, so you can do easily. This makes the stroller a sort of less-expensive combination stroller. With the same result, other manufacturers have a stroller seat that reclines flat. With the backrest adjusting system make a comfortable position for your baby to sit in the stroller seat when he ready to sit up on his own. There are many good valued travel system.
Travel systems can be bulky where's many other types are compact. It should be considered. And there are some strollers with smooth and easy to maneuver while the travel system can be cumbersome.
7. The Stand-on tandem stroller.
Stand-on tandem stroller is seventh type of strollers is also called as sit and stand stroller. The parents who have a small infant and also a toddler can choose this type of stroller. It would be perfect for them. This type of stroller consists with a seat for the small infant and back of the stroller there is an area where your toddler can sit or stand. There are some great choices for this type of strollers which are the Baby Trend Sit N Stand Stroller and the Joovy Stand On Tandem Stroller.
The behind sit is directly attached in this type of stroller. As the single-passenger strollers it has the same width. and fit through store aisles and doorways. On some models the front one usually can't recline while the rear seat can. This is for the limit space of the rear passenger. The seats can set so the passengers face each other; have the option on some tandems. To allows the child in back to see over the one in front some others have a "stadium seat".
There are also models allow the child to sit in the front and another in a lower rear seat. The strollers that will hold triplets can even find tandem.
Prosperity of tandem stroller is that, it fit through standard doorways and elevator doors more easily. A little more space taken by a folded tandem where folded standard midsized stroller is takes less. An infant car seat accepted by some tandem models. Just check the compatibility with the brand before you buy.
This can be quite difficult to steering and also be tricky getting over curbs. Steering can be quite difficult, and it can be tricky getting over curbs. To lift the front of the stroller parent typically would step on the back; lifting a heavier weight with about twice parents will do this also.
Today, parents will have plenty of opportunities to enjoy some time with their child even during his infancy with these types stroller. Internet is the best place to do your research. You will find review about the stroller that already has done all the research. Also you can know about the prices and discount prices. Choose a baby stroller that best fits with you and fulfill your baby's need. It will bring the expediency which you enjoy.